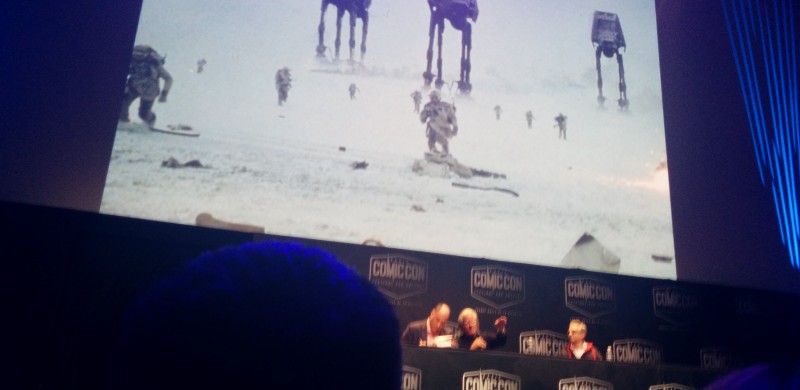 I've just spent a few days in Paris catching up with friends and professional contacts, which was lovely. It's always a pleasure coming back to visit. A few weeks ago I was planning my trip and chatting with my good friend Elo whom I was going to be staying with.
Knowing my geeky disposition, she asked if I was coming for the first ever Paris Comic-Con event. I knew nothing about it, but seeing there were tickets still going for the Friday afternoon of the event we organised to go and check it out together. Being free to organise my own schedule is one of the great pleasures and privileges of working freelance.
I heard so much about the original Comic-Con in San Diego that I was defiinitely curious. The event has become the launch platform for all the new ideas spawned out of TV shows, the grounds for testing science-fiction, fantasy, and of course comic book adaptations into movies with all the might of Marvel's cinematic Universe. From what I've read over time, it has become one of the largest marketing platform to reach fans and influencers for movie studios and all sorts of video content creators – oh and there's some comic books to check out too. I had heard of impressive experiential marketing displays and events in San Diego, like for the latest Godzilla film. I didn't really think anything in Paris would be as amazing as an interactive experience of the new Game of Thrones TV series season through an Oculus Rift virtual reality experience, but I guess I was still hoping for something memorable along those lines.
I'm not sure when it started being such a big thing, but these events also attracts a lot of attention for the people putting increasing amounts of efforts into hand crafting elaborate costumes to recreate the ones of their favourite fantasy, video game, or comic super hero characters. According to regular news and photo updates I'd come across that seemed to be the other thing to look out for when visiting. For some reason Brooklyn Brewery was sponsoring the Paris Comic-Con cosplay competition and promoting their Defender IPA beer. Apparently they had also sponsored the New York Comic-Con, they eem to have an deal with the event organisers. I get the name of the beer is super-hero-ish so it might be good exposure. At least I was there and the right audience to be interested in craft beer so I'm probably not the only one. I was very happy to taste a new IPA and it was the best beer deal available for purchase at the event, so bonus all round.
On a side note, I highly recommend reading Beer School. it's the story of the Brookly Brewery and a brilliant business and branding book. It's good to go find marketing and branding inspiration outside of the marketing and advertising industry itself. Did you know Milton Glaser designed their logo?
Back to comics, we have a strong culture of our own in France (and Belgium) when it comes to graphic novels. I was raised on Asterix, Tintin, and Lucky Luke. Once I finished on those and growing a little older I graduated to series like Lieutenant Blueberry, Black Moon Chronicles, and The Meta-Barons.
Alongside this, France was the first foreign country to import Japanese manga, and for studios to partner on co-creations. American comic books are historically less popular in France, whereas the Paris Japan Expo for manga and anime is absolutely huge. The international comics festival in Angoulême is the second largest event of its kind of Europe, attracting over 200,000 visitors every year. I was surprised Comic Con was coming to Paris; I guess the event is so successful it's expanding everywhere. I was curious about their choice of venue. It was at La Grande Halle de la Villette, which is a good location but quite small for an event like Comic-Con. 
Maybe it was their first and they didn't want to take too much risks on the location size. Given they sold advance tickets on a website they must have known how many people were going to show up. So I think many people were surprised that for an opening time announced for 1:30pm on Friday, people were still queueing to get in 2:45pm and that the only thing to do after that was queue some more to get in the main conference room – which frankly wasn't impressive in terms of size, just separated by what amounted to a curtain from the few and far between booths mostly selling graphic novels you can find in any book or specialty store. Apparently they have received a lot of complaints about this on the social media channels.
I was lucky to be able to miss all the queueing thanks to my friend Elo who did it in my place while I was having lunch on the other side of town, and I arrived right on time to get in the conference room for a talk with Jeff Mann, of Industrial Light & Magic / Star Wars fame. He made all the models for the original movies. By then she'd been queueing for over two hours. Unfortunately the talk was not impressive, the questions were pretty bland, it took time to translate into French and then he was quickly gone. Pretty disappointing. Even more so for her whohad been waiting all this time.
We checked a few stalls afte that, some cosplay costumes, and talked to the people managing the booth of Star Wars fans and cosplayers, the only worldwide organisation of fans to have official agreements to reproduce the costumes apparently.
We managed to attend a second panel with French Youtubers hosted by the French Nerd blog, launching a new web series, this time many fans were in attendance judging by the screams and ambient excitement. They screened the first episode of their new series. Elo and I looked at each other in obvious disbelief and perhaps feeling a little old and/or out of touch when the audience was so excited and we thought the whole thing was just dreadful. Poorly acted and just a bad or at least overused idea: A popular band taken over by zombie-like fans who calm down when they sing crappy pop music.
I was interested to see the show was financed by a department or company part of Endemol, a large television and media production company. I was just not into it whatsoever. In the words of Danny Glover's The Lethal Weapon character Murtaugh: "I'm too old for this shit". We left the conference section in bemused disbelief. The guy who seemed most excited about the whole thing was probably older than I am, so it's probably not even an age thing. I just didn't get it at all.
We were pretty much done by then, the event was closing down, and we were ushered out. I have to admit I'm not in a huge hurry to go to another one, though I'm really glad I've attended the first day of the first ever Comic-Con of my hometown of Paris. And to have been successfully targeted as a craft beer amateur at the event while I was at it.