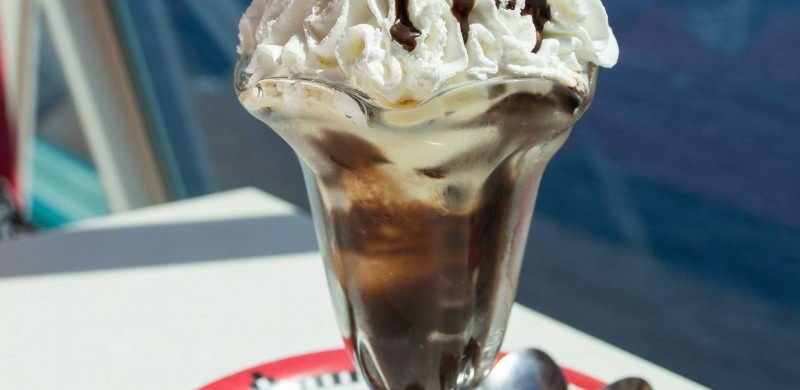 Header image credit: Sundae on the cruise by Brian Holland
A few friends recommended starting a weekly email newsletter. I've been thinking about what I could do that might be different from my blog, different from what others are doing, and most importantly something I'd enjoy writing and sending out every week, which I think would help me keep disciplined.
I'm taking the opportunity here to tell you what this new weekly email newsletter is going to be about, and why you might want to sign up to receive it.
Let's talk about sundaes first. According to some research, the origins of the dish are somewhat obscure with multiple places claiming to be the originators of the dessert. Everybody apparently agrees it was first created in the United States, in the late nineteenth or early twentieth century. A shocker first: apparently the name comes in fact from the day Sunday. In case you hadn't yet guessed when you'll be receiving my email if you sign up, there's an extra hint.
One of the places that claims to have invented the ice cream sundae is Evanston, Illinois, nearby Chicago. The story provided by the Evanston Public Library is that in 1890, the pious methodist community of Evanston passed a law forbidding the sale of the popular ice cream sodas on Sundays. Smart confectioners and drug store operators started selling ice cream sodas without the soda (or fizzy water), so basically ice cream topped with syrup, thus complying with the law. Those became known as the Sunday sodas. Some people, probably the same pious mentioned earlier, objected to the dish being named after the day of the Lord, so they changed the spelling to sundae. The Evanston Public Library doesn't certify the story is 100% historically accurate, but that's ok. It's a good story.
I like it because it demonstrates a simple and ingenious solution to a problem, and that is the way I strive to work with clients. Sometimes we tend to focus on the soda too much, particularly when it's taken away, when in fact what people really want is the ice cream.
When I think about a sundae I also like the idea that it's more than the sum of its parts: the chocolate fudge, ice cream, sprinkles, nuts, maraschino cherry and even the high glass all make for a greater whole. On their own, they're not as exciting. Moreover, ingredients can mixed and matched, and recombined at will to satisfy every want or need. It's colourful and playful. It's also similar to when we work together to come up with new ideas and solutions to business and communication problems.  Not too keen on sugar? No worries, you can have a coconut milk base paleo ice cream with dates, nuts, and say a 90% cocoa dark chocolate. See, ice cream for everyone.
When it comes to the newsletter, I've been wondering what kind of intelligent sounding marketing related stuff I could write about, or whether I should share links to stuff I'm reading like I see some other successful consultants are doing.
I wasn't too sure about the links, I don't know about you but I read a lot of articles and blog posts every week. Even then, I still have way more links than I have time to read. I'm only talking about the ones I'm aware of and know I'd like to read. You will have little to no links in my newsletter – say one to three links at most, with context to explain them. My Twitter feed has links to stuff I'm reading. Twitter, Medium, Fraggl, and many more online platforms or tools provide many many links very well.
I intend to keep writing about marketing in my blog and don't want the newsletter to be doing the same thing. People sometimes tell me I have interesting stories to tell about my life. It might sound narcissistic, and maybe it is, but the fact is I enjoy writing that kind of stories, so that's the kind you will receive when you sign up to this newsletter. A pretty simple text email with a relatively short story to read alongside your Sunday papers, possibly with a link for context, and perhaps another leading to the latest going on the blog or podcast.
The first Ice Cream Sundae newsletter will be sent on Sunday 4th October 2015 and every Sunday after that. Please try it out for a few weeks and see if you enjoy hearing about me – if you don't like it you can unsubscribe any time obviously. You can sign up by filling the form below or clicking here.
See you in your inbox!
This MailChimp shortcode is now deprecated. Please insert the new shortcode to display this form.
PS: Someone pointed out it's still not obvious how this newsletter will be different from what I usually write. Obviously I'm still the person writing both so whichever you read you'll find similarities. I'm experimenting with writing about different topics in different places online or at least different content. I'm loath to state clear guidelines just yet (I'm working on those, wondering if they're necessary too), though I can say for sure is what will be in the newsletter won't be on the blog and vice-versa. I hope it helps. In doubt, just sign up.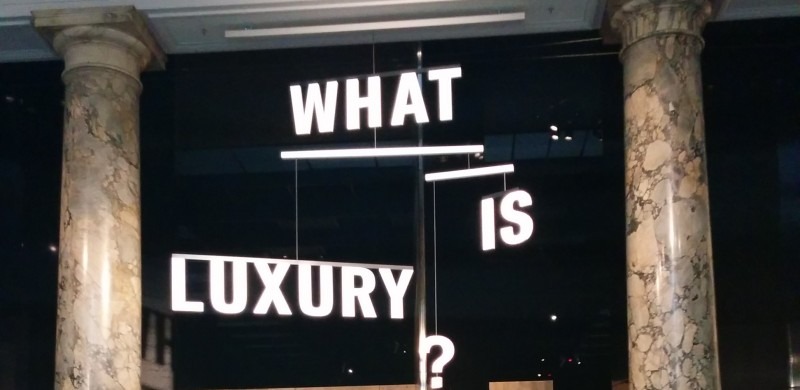 I'm finding that one of the benefits of traveling to London temporarily is that I'm paying more attention to art exhibitions, and cultural events happening while I'm visiting. With that in mind and while I've been in London to meet with existing and potential new clients, I also reserved a couple of hours – luckily on a fine and sunny morning – to visit this exhibition at the Victoria & Albert Museum before it ends in about 10 days. It's free and I recommend checking it out.
The exhibition, created in partnership with the UK Crafts Council, is an inquiry into the meaning of luxury through selected attributes. The curated craft and design pieces mean to illustrate and interrogate different aspects of luxury.
The first room, "Creating Luxury" featured two exhibits for several attributes, such as passion, exclusivity, innovation, etc. Some of these were pretty amazing pieces, with interesting choices of pieces to present contrast, such as an opulent yet described as very uncomfortable howdah (the chair sitting atop an elephant in India) under the term "pleasure".
The second room, "A Space for Time" and The Future of Luxury" featured very interesting installations, projects, and design pieces questioning the place of luxury items: carbon based items shaped into diamonds which don't have the same value as mined diamonds, a machine printing uniquely curated booklets of images randomly pulled from the Internet, a short film tracing the journey across the world and the people involved in crafting one unique luxury piece.
Ultimately, the exhibition invites visitors to consider what their own personal version of luxury is or might be.
I'm sitting in a coffee shop in London as I'm writing this, stricken by a certain duality: feeling privileged and lucky to manage my own time and location, while looking out the window at a continuously rainy and grey street which doesn't look like anything luxurious at all. Being independent certainly carries benefits, however I'm not sure I'd call that luxury.
Unique and spectacularly crafted items have traditionally been the privilege of the very few, and to a large extent this hasn't changed. That said, what seems to have changed is that the many are now very aware of what the few have. An entire industry of popular magazines or TV channels are dedicated to the topic.
In consequence, I believe other changes from the past have to do with the aspirations to own the same luxury items as the few, and perhaps growing resentment towards deepening inequalities.
I remember meeting a group of people in Kunming, China, a few years ago and talking with a female student. She visited the hostel where I was staying on a regular basis to practice her English. She was very excited to learn that I was French and grabbed my notebook to write all the luxury brands she could remember, asking me to tell her how to correctly pronounce Hermès and Louis Vuitton. It made me smile at the time, but I also wonder how long increasingly distributed and common items can retain their badge of luxury, or why we hold such as a fascination for a name and a bag or a scarf – even granting it an exceptional level of craft.
It also reminds me of Japanese movies about craftmanship, like this short about a traditional sword maker, or the documentary Jiro dreams of Sushi. They can likely easily fit within definitions of luxury, yet I wonder if the craftsmen think of their work as luxury, I doubt it actually.
The difference between the points above may well be the interest of celebrities and media. If some movie stars decided to start carrying traditional Japanese swords tomorrow, would there be sudden surge in their popularity? I think it is entirely possible, but then perhaps people are missing the opportunity to define luxury for themselves.
As for me, as much as enjoy stuff, I think my own version of luxury is pretty simple: idle time. Time is our most precious resource, so idly enjoying an hour or two of it sitting here and slowly writing this while I watch a busy street of London is the height of luxury.
On that last point, I highly recommend We Learn Nothing by Tim Kreider that I am reading at the moment. You can listen to this great fifteen minute long excerpt called "Lazy: A Manifesto".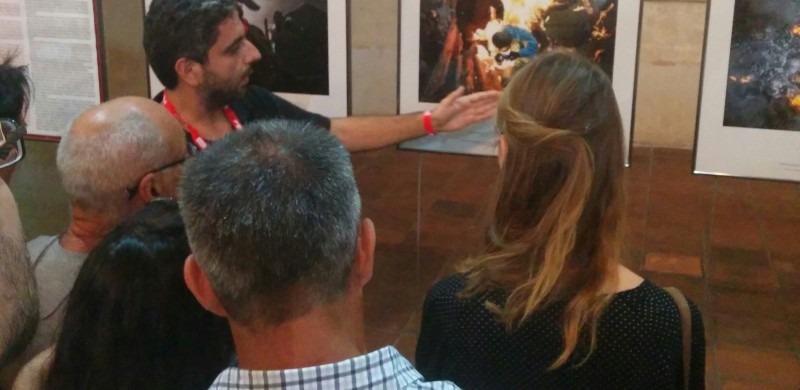 Above: Award-winning photojournalist Bulent Kiliç talks through his exhibition at Visa pour l'Image 2015
It is the 27th edition of Visa pour l'Image in Perpignan at the moment, an international photojournalism festival, the largest of its kind in France. I happened to have caught up with an episode of the Freakonomics podcast about why we really follow the news last weekend, and I have been thinking about this as I visited several of the photo exhibits in the past few days. The exhibits cover a wide variety of topics, though more often than not they aren't happy times holiday photos. The festival selection features stories from the some of most important and horrible news events of the past year: the war in Syria, refugees fleeing Syria, the Ebola epidemic in Western Africa, the earthquake in Nepal, and much more.
As I've been looking at these photos I've been wondering about our fascination for these photos of human pain, misery, and suffering. I've also been thinking about the photojournalists who live through increasingly dangerous situations to cover these stories.
I read a few articles and Wikipedia pages to find out more about these questions. It is ironic that following an exhibition featuring photos of the pro-Russian unrest in Ukraine, I found out that it was the Illustrated London News that pioneered the birth of early photojournalism during the Crimean War in the mid nineteenth century. It's almost like photojournalism came full circle last year.
It is also strange to read the stories the photos relate to, in order to get an idea of the context and background, and then to evaluate or judge the photography itself (composition, colour, light, etc). At first thought, it seems the story and content are an opportunity to relate to the photo emotionally, and that the technical appreciation is more rational.
In the choice of photos published or exhibited, the distinction blurs. What could be considered technical elements of a photo reinforces and conveys emotion in a good one. I caught myself thinking "What a beautiful photo" when the subject is clearly suffering. That is the experience I felt was strange. Even when the subject isn't suffering, the separate experience between appreciating and imagining the person or landscape being represented and the representation itself.
Shadenfreude is a well known and well researched concept, but not necessarily that well understood. Many theories exist, such as it being a need to pay attention to dangers elsewhere and learn about them for our own survival, or feeling better about ourselves by knowing others are worse-off. On this topic, I haven't read Susan Sontag's Regarding the Pain of Others, and On Photography but they have been recommended to me in the past and I'm adding them to my reading list.
Many photojournalists adhere to ethical codes such as the U.S. National Press Photographers Association Code of Ethics. Their fourth point reads:
4. Treat all subjects with respect and dignity. Give special consideration to vulnerable subjects and compassion to victims of crime or tragedy. Intrude on private moments of grief only when the public has an overriding and justifiable need to see.
I find the last sentence is particularly interesting, it seems to leave the door wide open to interpret what "the public has an overriding and justifiable need to see".
The ubiquitous use of social media has seen the rise of citizen journalism, which doesn't adhere to any code of conduct by definition. Their motivations aren't necessarily about what people need to see, but rather what they want people to see, and even perhaps more about them altogether. A friend recently called my attention to a creepy new trend in selfies: taking photos of yourself with a corpse in the background, or even making news by murdering someone and then taking a selfie with the corpse. Going even further, terrorist organisations also leverage social media to communicate. They relish in publishing gruesome photos and videos of executions and they are being talked about because of it.
Seeing how virtual reality technologies are rapidly evolving, I wonder what this could mean for the future of photojournalism. Is the future of news people experiencing virtual reality simulations of war-torn areas, maybe seeing and feeling events through the eyes of a sensor-laden "VR-journalist" wandering around? The idea has been explored by several science-fiction authors in different novels, so it seems a pretty reasonable idea by now.
However at that point I think it becomes really difficult to pretend it would be about civic duty for knowledge rather than purely about entertainment. I would say it is a worrying kind of entertainment too.