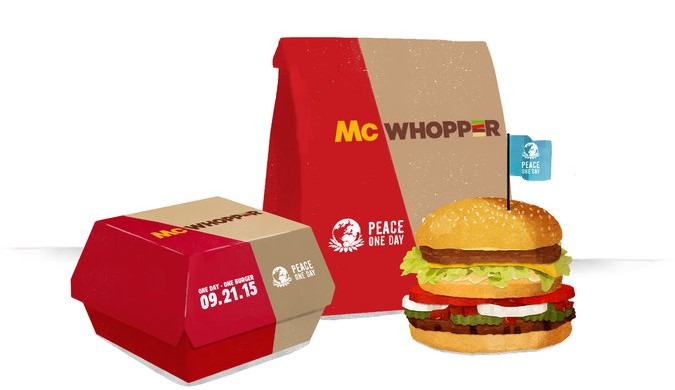 This is a tough one. I think it's one of the best marketing ideas I've seen in a while on one hand, and depressingly ridiculous at the same time on the other. My cynical side is struggling with the exciting possibility of eating a McWhopper, and even the idea of bringing peace and type 2 diabetes to the world one McWhopper at a time! And there goes my cynical side again. I guess I could also go and buy a Big Mac and a Whopper and just put them together myself without waiting for World Peace Day, but that's besides the point.
It is definitely and already great for Burger King, and I'm pretty sure it's already unexpected (?) positive media exposure for McDonald's, and they haven't even responded as far as I know.
Is it any good for the World Peace Day and the Peace One Day NGO..? That's just one of the other areas I have doubts about.
My first impression is that the Peace One Day's message is drowned out. It's certainly benefiting the burger makers. Let's say it is about making the world a better place, if so then how are they doing that exactly? Are they handing out some cash on the 21st September? How would that cash be spent?
My second set of doubts come from looking at Peace One Day – I've only had a quick look at their site and a couple of video so I admit I could be missing information. Their main message seems to be: " Awareness creates action, and action saves lives". I saw it on their website, and on this McWhopper video.
I'm not convinced awareness creates much immediate action. I knew smoking was bad and I kept smoking for years, it's an easy example and I'm sure we can easily think of similar ones. And certainly not all action saves lives. Some actions even eliminate them, actually.
I also thought of the ALS Ice Bucket Challenge from last year, and the numbers tell us the viral sensation raised $115 million for the ALS Association. They also produced a nice infographic to tell people how they've been spending the money so far. I find interesting in comparison that the whatever you thought of the ALS ice bucket videos, the message was pretty clear and straightforward: Throw an ice bucket over your head, commit to donating to the ALS Association, and nominate friends in your video to keep the chain going. The ALS Association is spending the money on research, patient care, etc.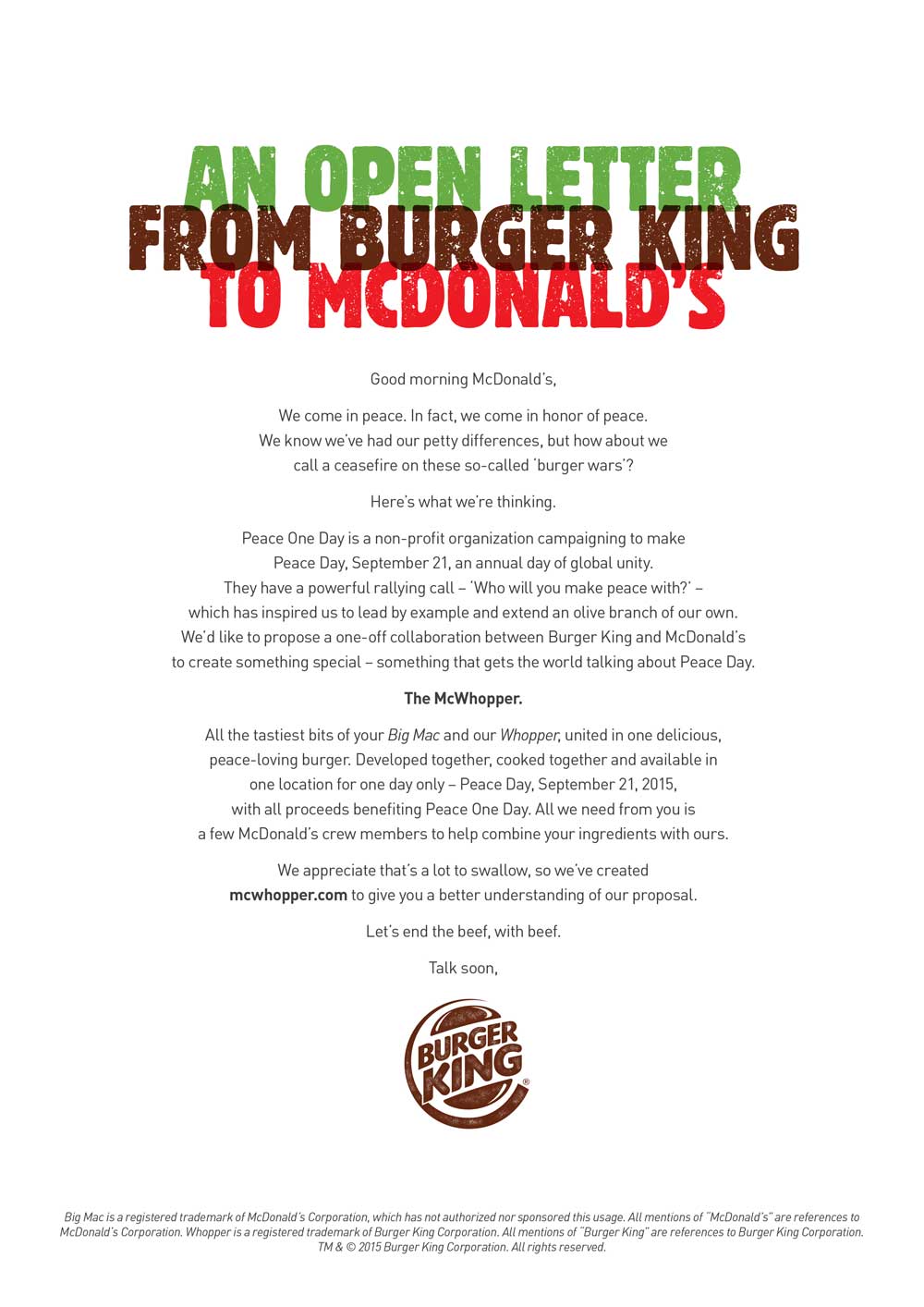 I don't see this kind of simple message with the McWhopper Proposal, and certainly not the difference it's going to make for peace in the world. The ice bucket videos weren't branded, so maybe it's just a bad comparison altogether. World Peace is a great ideal but not as simple as researching a cure to a disease, even the most difficult one.
The video suggests Atlanta as a middle ground between two US locations, none of which are or have been at war for a long time. Maybe well played Burger King, but what are you actually going to do in the name of World Peace then..?
I agree that these companies have the kind of size and influence required to make changes on society, but in this context I fail to see how Burger King and McDonald's can make a positive difference towards peace in the world with a McWhopper restaurant in Atlanta. If anything, it may just be showing how much more people like fast food than the idea of world peace.
I also think fun and play is important, and if that's only what Burger King has in mind, then great. That said, just tell us what this is actually doing for World Peace, because I don't think the so called "war" between two fast food giants is what the UN wanted to solve by creating the International Day of Peace.
Or am I being too cynical (for a change)?