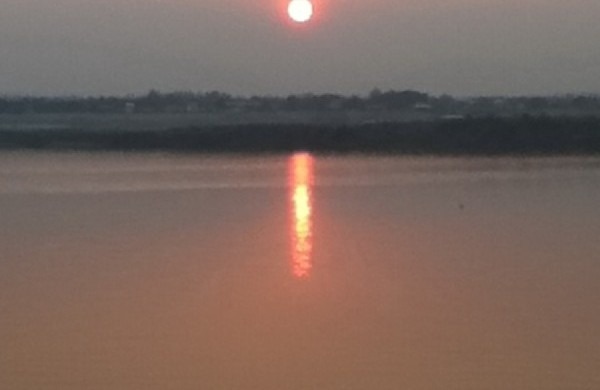 I'm very glad of my choice to move on to Laos, I arrived in Savannakhet on Sunday evening after a fairly long bus ride from Hue in Vietnam. As soon as we passed the Vietnamese border, the sky started clearing, the temperature rising, and the roads cleared as well – there are just much fewer people in Laos.
I loved it straight away. I got to a nice guesthouse recommended in the guide, joined by Tatsuro, a cool Japanese guy at the beginning of a 2 year round the world trip. The guesthouse is pretty close to the Mekong so we just had time to drop our bags and go enjoy the sunset with a BeerLao with the locals at one the food & drink stalls set up there in the evenings. Funny to think I had just crossed the whole width of both Vietnam and Laos in a day to find myself right across the river from Thailand.
I like Savannakhet, there isn't really much to do but I guess that's just what I wanted after being on the move all the time since I left Kunming. Yesterday was full sun and over 35 degrees – perfect to just walk around in the sun and have a nap in the afternoon, followed by beer & sunset time.
I rented a motorbike today to go out for a wander in the countryside, saw the closeby Budddhist stupa of That Ing Hang which apparently is an important pilgrimage site in February when thousands of people visit. I also went to a few villages out on dirt tracks, as well as a couple of lakes, there to irrigate the rice paddies in the dry season such as now. Lovely weather, a few clouds showed up so it was hot buy I didn't get burned in the sun.
Considering I can't drive (don't have my license) and hadn't been on a scooter in about 15 years this was pretty adventurous for me and glad I did it. That said, going on a loop biking for several days on dirt tracks feels slightly out of reach just now – I'll probably need some more practice. Next time I think I might just go back to normal cycling, it's easier to enjoy the scenery like that as well.
I rounded the day off with a traditional Lao massage. Lots of stretching and pressure points – good stuff. I'm now back at the iLounge Cafe for a drink and dinner. Good company, cold drinks, good Thai & Lao food and free wifi!
Tomorrow I'll be moving South to Pakse, then on to Champasak to see the Pre-Angkorian ruins of Wat Phou. After that I'll be heading to Si Phan Don, or 4,000 Islands, where the Mekong stretches out to a width of about 14km before Cambodia.
Not sure I'll get a lot of Internet access down there, most places don't have electricity apparently. A few days on a hammock watching the Mekong flow by sounds great though!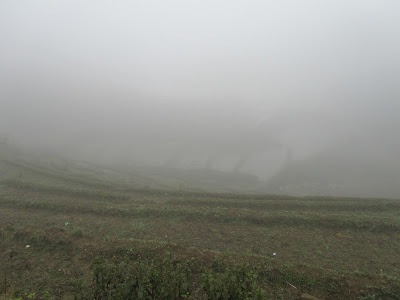 I have spent just about 10 days in Vietnam, travelled from the very far North where I arrived in Lao Cai to where I am now in Hue, about half way through the country. I've certainly had good times but unfortunately no sun, since I arrived I've been in or under a huge grey mass of clouds and haze, which I find makes the whole experience less enjoyable. Altogether I'm not enjoying the country that much, I have been changing my plans almost every day since I got here, chasing sunnier / warmer climes as well as trying to escape from very busy and ultra touristy areas, with all the fairly aggressive touts and scammers that come with them.
I have probably covered 1,000 km in Vietnam so far and the only grace weather-wise was a clearing of clouds for some sun and blue skies a couple of hours this morning. Anyways, I decided to give up on Vietnam and move on to Laos tomorrow morning. I am taking a bus early in the morning for Savannakhet.
I have some nice photos, met some cool people to chat with as well as spend a day or evening with, so it was all good but I also won't be missing Vietnam very much, nor am I in a massive hurry to come back. I guess it's a spoiled traveler's issue, but I much prefer China – I'd recommend going to Szechuan or Yunnan over Vietnam any day.
I certainly don't want to just sound sour, so here are a few highlights of my time here, with a few photos.
Now you see what I mean when I said Sa Pa was in the clouds and had bad visibility.
I wasn't sure I liked Hanoi much at first though As I met a few people who lived there on the 2nd day, I started to warm up to the busy atmosphere. I think it would be a great city to live in, and it was certainly nice to walk around for a couple of days. I'd say the city has a lot of charm, though not necessarily many beautiful sights for a tourist. I didn't find the food amazing either, good but not great. Maybe I didn't go to the right places, but you may know I can also be a condescending snob about that (well that and probably some other things come to think of it ;).
I decided to give Halong Bay a miss. They closed the site to most tourists the day before for fog reasons and most of the people I talked to who had just come back from it said it was not worth it given the bad weather. It was also a considerable expense for my budget, I decided to keep that money for some other attraction another day.
Busy traffic in the Old Quarter of Hanoi
The Ho Chi Minh Mausoleum
I played around with reflections in the photos
I met some cool people to have dinner and drinks with, including Ralph, World Traveller – his business card says so.
I went to Ninh Binh instead, with Tam Coc close by and many karstic rock formations considered to be an inland Halong Bay (actually these sort of rocks cover most of the country a I saw during my train ride later on). I spent a nice day cycling around with a Danish chef who showed up – which was good because I think I might've gotten bored by myself and he is a cool guy. I was going to go to Cuc Phuong National Park but the weather still wasn't great so I headed south on the train the following day.
Nice views of the rock formations, though limited by weather.
The long train ride was one of the highlights of Vietnam for me, I enjoyed just watching rice paddies, banana trees, rock formations and occasional trees go by while listening to music and reading for 8 hours.
It doesn't look amazing but it was a bit difficult to take good photos on the train. And it didn't actually look that great either. I enjoyed the train ride nonetheless and had an awesome book to read.
After a short and random stop in Dong Hoi for a night, I decided on a whim to stop earlier than planned on the train, in Hue rather than Danang and Hoi An as I originally planned. I might have wasted about $5 changing train tickets and destinations, so not a huge deal.
Still cloudy weather yesterday in Hue, I spent a nice afternoon with some English people walking around the Perfume river and the remains of the old imperial palace. Had nice food for lunch, local sort of roll'em yourself spring rolls with a good peanut sauce.
In the old Imperial palace of Hue.
I'm catching up on some writing today, here and i wrote two letters, so that's four letters in Vietnam – still enjoying writing them very much. I think that'll be it for now, folks!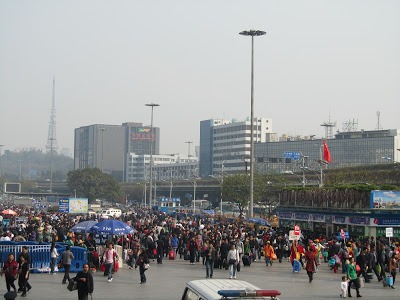 As I wrote it in a letter to someone yesterday (I'm enjoying this letter writing by the way, 6 sent so far ;), I've only really been on the road for 10 days (not counting Hong Kong) and it already feels like a month at least. I'm not even necessarily doing that much; it's a lot of new experiences, thoughts and conversations in a short amount of time – presumably as the environment is so different I'm looking at everything differently as well. In any case, whatever you want to call it, it's certainly one of things I enjoy most about traveling. If you haven't done that in a while, I recommend you book a ticket for some strange and new destination, try it out. I"m always surprised at how much changing the context / environment can open my mind to new thoughts, ideas and observations. It's not providing any particular answers to the meaning of life – as far as I can gather it's still 42 – but it's a pleasure nonetheless.
I'm having a really good time and extremely happy with the choices I've made for this year to come and explore the region around here. Given I can't easily access Facebook to upload photos, I'll sum up the trip so far with a few choice pics here.
I took a train from Hong Kong to Guangzhou on Thursday 24th Feb, hoping to catch another one directly to Kunming. I hwaited a few hours there. When people told me the station at Guangzhou is very busy they weren't kidding.
After a 26h train ride (on a hard seat, they only had those tickets left) I arrived in Kunming and spent a lovely few days there. I just walked around town, and also visited Qiongzhu Si, the Bamboo Temple.
I met some great people in Kunming and had some excellent food. Here, we are in a Dai restaurant, they are a minority people from Xishuangbanna, in Southern Yunnan – delicious spicy food. Next to me on the pic is Mike, a cool Canadian dude who has been cycling from home all the way to China across Europe and central Asia.
After a few days, it was time to head over to Vietnam as I only managed to get a 10 day visa for China this time, I stopped first in Tonghai and visited the lovely mountain park of Xiu Shan, so many gorgeous flowering bonsai, all blooming.
I don't know why, but I can't seem to add any more photos to this blog post. Anyways, after Tonghai, I stopped in Jianshui the following day which has a large part of the old town left and I visited the Zhu Clan['s house and gardens, a nice place to while away the afternoon and write a letter. Then I took another bus to Vietnam and ended in Sa Pa on Thursday evening. I've been in a cloud pretty much since then. It's supposed to be amazing views of the valley all sculpted in rice paddy terraces, but unfortunately there is nothing to see right now. I met some nice people anyways and walked around a village in the mist yesterday. I'm cutting my stay here slightly short and heading down to Hanoi this evening given it's just cold and damp all the time. Maybe some other time.