It's that time of the year again! WWF are calling to everyone on the planet to turn their lights off for an hour on Saturday 28th March at 8:30pm GMT.
All you have to do to participate is turn your lights off. Get some candles. I participated last year (Reminded last minute by Google that changed their homepage for the occasion ;). You can also sign up here to show your support, it'll only take you a couple of minutes and it's for a good cause.
There are a bunch of resources here for your blog, banners, etc – but what's pretty cool is they also created a highly fashionable augmented reality 'Earth in your hands' thing – if you never saw 3D augmented reality, the concept is that you print out a specific design handed out and then show that to your webcam on the site, and voila! A 3D design appears in your hands. Pretty nifty, heh?
Even the pandas are doing, so why not you? Crazy pandas…
I received this email chain from a friend. I hadn't received any in so long, I'm just thinking it's a McDonald's marketing campaign 😉 Touching story I guess, though a bit too much God in it.
Do you think God eats at McDonald's?
Don't get me wrong I'd gladly sacrifice 10 friends on Facebook to give a Whopper to a hungry/homeless person, I just don't think God, McDonald's and this email will help them that much.
My friend Adam said I wasn't being too cynical, just too French. I don't know what he means..?
PS: On this note, I'm making a donation to Crisis and I encourage you to do the same, it will make more of a difference than forwarding this email around!
A Return is Requested….You'll see why. Breakfast at McDonald's
This is a good story and is true, please read it all the way through until the end! (After the story, there are some very interesting facts!):
I am a mother of three (ages 14, 12, 3) and have recently completed my college degree.
The last class I had to take was Sociology.
The teacher was absolutely inspiring with the qualities that I wish every human being had been graced with.
Her last project of the term was called, 'Smile.'
The class was asked to go out and smile at three people and document their reactions.
I am a very friendly person and always smile at everyone and say hello anyway. So, I thought this would be a piece of cake, literally.
Soon after we were assigned the project, my husband, youngest son, and I went out to McDonald's one crisp March morning.
It was just our way of sharing special playtime with our son.
We were standing in line, waiting to be served, when all of a sudden everyone around us began to back away, and then even my husband did.
I did not move an inch… an overwhelming feeling of panic welled up inside of me as I turned to see why they had moved.
As I turned around I smelled a horrible 'dirty body' smell, and there standing behind me were two poor homeless men.
As I looked down at the short gentleman, close to me, he was 'smiling'
His beautiful sky blue eyes were full of God's Light as he searched for acceptance.
He said, 'Good day' as he counted the few coins he had been clutching.
The second man fumbled with his hands as he stood behind his friend. I realized the second man was mentally challenged and the blue-eyed gentleman was his salvation.
I held my tears as I stood there with them.
The young lady at the counter asked him what they wanted.
He said, 'Coffee is all Miss' because that was all they could afford. (If they wanted to sit in the restaurant and warm up, they had to buy something. He just wanted to be warm).
Then I really felt it – the compulsion was so great I almost reached out and embraced the little man with the blue eyes.
That is when I noticed all eyes in the
restaurant were set on me, judging my every action.
I smiled and asked the young lady behind the counter to give me two more breakfast meals on a separate tray.
I then walked around the corner to the table that the men had chosen as a resting spot. I put the tray on the table and laid my hand on the blue-eyed gentleman's cold hand.
He looked up at me, with tears in his eyes, and said, 'Thank you.'
I leaned over, began to pat his hand and said, 'I did not do this for you. God is here working through me to give you hope.'
I started to cry as I walked away to join my husband and son. When I sat down my husband smiled at me and said, 'That is why God gave you to me, Honey, to give me hope..'
We held hands for a moment and at that time, we knew that only because of the Grace that we had been given were we able to give.
We are not church goers, but we are believers.
That day showed me the pure Light of God's sweet love.
I returned to college, on the last evening of class, with this story in hand.
I turned in 'my project' and the instructor read it.
Then she looked up at me and said, 'Can I share this?'
I slowly nodded as she got the attention of the class.
She began to read and that is when I knew that we as human beings and being part of God share this need to heal people and to be healed.
In my own way I had touched the people at McDonald's, my son,the instructor, and every soul that shared the classroom on the last night I spent as a college student.
I graduated with one of the biggest lessons I would ever learn:
UNCONDITIONAL ACCEPTANCE.
Much love and compassion is sent to each and every person who may read this and learn how to
LOVE PEOPLE AND USE THINGS –
NOT LOVE THINGS AND USE PEOPLE.
There is an Angel sent to watch over you.
In order for her to work, you must pass this on to the people you want watched over.
An Angel wrote:
Many people will walk in and out of your life, but only true friends will leave footprints in your heart
To handle yourself, use your head..
To handle others, use your heart.
God Gives every bird it's food, but He does not throw it into its nest.
Send it back, you'll see why !
A box of gold
*~*~*~*~*~*~*~*~*~*~*
With a secret inside that has never been told
*~*~*~*~*~*~*~*~*~*~*
This box is priceless but as I see
*~*~*~*~*~*~*~*~*~*~*
The treasure inside is precious to me
*~*~*~*~*~*~*~*~*~*~*
Today I share this treasure with thee
*~*~*~*~*~*~*~*~*~*~*
It's the treasure of friendship you've given me.
*~*~*~*~*~*~*~*~*~*~*
If this comes back to you then you'll have a friend for life
but, if this becomes deleted, you are not a friend.
Send this to everyone you consider a friend!
It will grant you one wish and only one wish,
that is, if you decide to send this to others. You can wish for anything.
Repeat your wish until you have stopped scrolling. Make it count!
FOR YOUR WISH TO COME TRUE YOU HAVE TO SEND IT TO:
3 PEOPLE – YOUR WISH WILL COME TRUE EVENTUALLY
5 PEOPLE – YOUR WISH WILL COME TRUE IN 3 MONTHS
10 PEOPLE – YOUR WISH WILL COME TRUE IN 5 WEEKS
15 PEOPLE – YOUR WISH WILL COME TRUE IN 1 WEEK
CAN'T WAIT A WEEK???
22 People-Your Wish Will Come True In 1 Day!
****** **********REMEMBER**************
THIS MUST BE SENT OUT THE
DAY YOU READ IT FOR
YOU TO GET YOUR WISH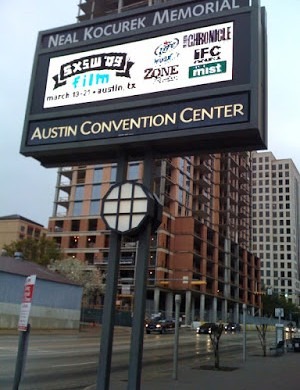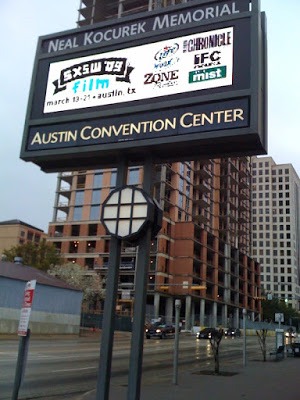 I don't know if I'll be writing a post every day for this, but I'm not being too crazy tonight and can write so I might as well 😉
First really busy day of conferencing, and it was pretty amazing! Glad I got up early and managed to do my registration and grab my badge really quickly given the Convention Centre was pretty much empty. My hotel is a little far from downtown – not too much but enough that I can't really easily be going back and worth walking if I need to srop something off. Like the gigantic goody bag I got this morning. Hanged around the huge Austin Convention Centre for a couple of hours, came across Alex from Hide & Seek and Jeremy, and talked with a few other people as well before catching up with Katy for lunch.
Went according to plan for the first panel of the day: 'Minority Report is real' and it was very cool – exactly the kind of research and forward thinking I was expecting from coming over here. Three people on the panel, all seriously interesting people, but not exactly into interface design – this was more of a side research project they started conducting together, looking into how movies and sci-fi have influenced new technology developments and still are – or sometimes the other way round as well.
They distinguished several trends in interface design / gestural UI development, and showed us examples in movie clips and then how close or far we are from those in real life. That was very cool and beautiful, but it was really great they kept asking the questions going further about what they might be used for and whether we really need an oblong beautiful Minority Report right now, how much is it exactly used for good, etc.
Next wasn't so good, unfortunately. I was hesitating between a web design one and this one about a company doing ARG types games, I probably should have gone to the other one, but hey – it's also part of choosing between so many things, and some other people told me most of the other talks at the same time as the last time weren't very good – I chose right for the 1st one, I guess. The company in question, The Go Game, actually do really interesting stuff in terms of games for corporate / team building events but I thought they didn't really have much to say and didn't feel like they really prepared for this talk either – they probably could have done it in 10 min with the material they had but talked for an hour… Nice people and their games look definitely great but not so great at talking in a panel…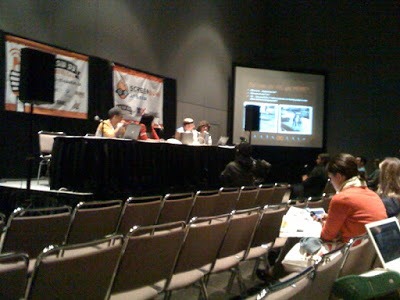 Next was one of the big talks of SXSWi with Alex Bogusky – the B in CP+B – Talking about 'Can an Ad guy bring bike sharing to America?' Having quickly found out that the answer was in fact no, the topic shifted slightly to 'The art of sticking your nose where it doesn't belong'. He introduced CP+B and talked about who they are and the kind of work they do; as you do in such a talk – I actually didn't mind given I'd never heard him talk in a conference and apart from BK these days I haven't been talking about everything they do and found about a couple of campaigns I didn't know about as well. But more importantly, he talked about a load of pretty fucked up things on this planet via a bunch of good quotes and stats (#collapsonomics) and about making a difference. At first it could seem like it's all hopeless, but going from the fact that human knowledge is growing exponentially and a few other things – basically just go out there and do something to help, anything you're passionate about. 'Poke around' Go with an idea, talk to some people, meet some people who know people who know people, stick your nose where it doesn't belong.
He essentially shared this through their project (Humana, Trek and CP+B) of bringing bike sharing to America – a similar system that exists in Paris with the Velib. All really interesting stuff and pretty inspiring!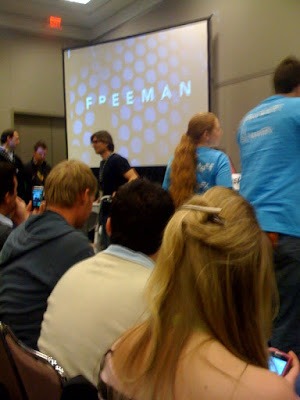 Mr Alex Bogusky
I ended up going off to a bar from there with Alice from BBH, Nicole (whose Husband was freelancing with us at iD recently), Damiano from the RSA, Conor from the RoundHouse and a couple of other people. Originally well intended wanting to go to the first official drinks for SXSW but way too much queue and it turned out Nicole's sister is a bar manager in Austin, so we went there for drinks (I then tried going to the 2nd official event – saw the queue, turned around) and then on to a Mexican restaurant with a few other Austin peeps. Turned out, we ate close to the Hotel where I'm staying so I thought I'd go back and write this – keep the big party energy for tomorrow 😉

The Gueres Taco bar
I finally landed in Austin, Texas for SXSWi! Long flight (s) and some delays, but got here in the end and that's what counts! Couldn't wait to have a beer and walk around a little as I arrived at the hotel and the event already started. Loads of people were already on the flight and the hotel bar had a few people there already pre-celebrating…
Already maing some contacts, the first person I saw at Heathrow this morning at 8am is also the first person I saw arriving here and turns out to be in charge of new media at the RoundHouse in Camden – very cool Irish guy. We had a really good chat about online and music – having just completed the HERD chapter about WoM and the Arcic Monkeys, I had stuff to talk about ;0).
All looking pretty awesome!
Also met a bunch of other people, including a colourful and pretty lively couple from Tennessee – that I might just try to avoid slightly in the coming next days 😉
Very excited, though tomorrow morning is going to be a very long queue to register for the event, apparently the queues were already huge this evening for the pre-registration…
I realise I should have some kind of picture illustrating, but that will be for tomorrow.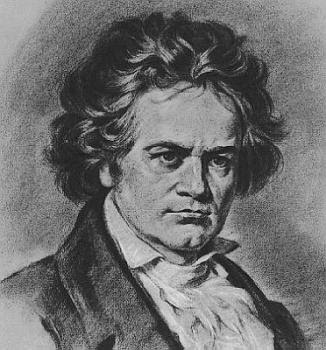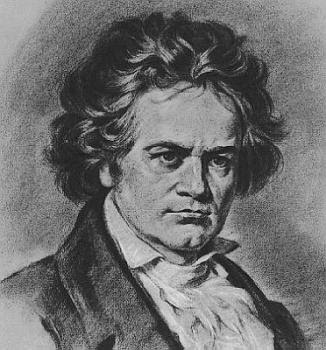 May 7, 1824: Premiere night of Beethoven's Ninth Symphony.
According to one witness, "the public received the musical hero with the utmost respect and sympathy, listened to his wonderful, gigantic creations with the most absorbed attention and broke out in jubilant applause, often during sections, and repeatedly at the end of them."
March 9, 2009: Premiere night of Marcus Brown's Garden of Tweetdom. (Photo by Ben Terrett)
Need I say more..?
An unusual atmosphere of sheer anticipation could be felt yesterday around London Bridge, but on a Monday evening, this had nothing to do with the with the well-known bustle surrounding the famous Borough Market on Fridays and Saturdays.
No, this could only be described as an entirely different level of artistry for this evening was the first live and official Tweet Reading event to take place in London. Rumours abounded over the past few weeks amongst the eminent Twitterati of hushed discussions via Direct Messages concerning the veracity of the artist having turned down requests to speak from the Royal Academy of Arts. The choice of the Market Porter as a venue, an established and popular public house, can only be explained from the extreme proximity with the farmer's market and the glorious food sold therein. Just as food is sustenance for the body, the Tweet Reader's work and interpretation of tweets are sustenance for the mind; moreover the theme of the evening was to be of the origins of all things Twitter, just as the market is the best representation of the origins of food in the heart of a city.
The London Twitterati lucky enough to be invited gathered in the room around 7pm and Marcus Brown appeared soon after, opening the evening with his signature and unmistakable words: 'Good evening'. Those two otherwise innocuous words, carried enough weight to silence the room instantly. A certain feeling of awe was immediately palpable within the audience, clearly the sign of being in the presence of a true master. After a few more words, Marcus announced that there would only be three Tweet Readings for the evening. A slight murmur of disappointment made its way through the room, though I admit I smiled at the intrinsic audacity of the number.
3. As you all well know, a magic number for as long as the number has existed. From the Holy Trinity in Christianity to the Triforce in the Legend of Zelda, three is the first uneven prime number, one of the major forces in the Universe. Using a number of such power, Marcus sets the tone and promises us an extraordinary evening at the very least. 'But will he deliver?' I thought.
With readings of William Humphrey, John Dodds, and ended with Sam Ismail (Whom according to anonymous sources has been instrumental in enticing the artist to a live performance) the evening certainly couldn't go wrong with such prolific and extremely talented Tweet authors; and they certainly deserve the acknowledgment accompanying their readings by such an important international figure in the Twitterverse; some even call Marcus the very first Twitter Academic. The sceptics will certainly accuse Marcus of a certain lack of creativity in choosing the most obvious authors for the evening, but what truly counts is the value of the insight and of the interpretation and in this field, detractors will have a difficult time finding any flaws to Marcus' readings.
But let us also remember that Marcus is first and foremost a Renaissance Man, a Polymath recognized by the worlds of arts and sciences as the Leonardo da Vinci of the Third Millenium. Marcus shared with us his previous works: iPod Singing, The Sacrum episode with Wieden and Kennedy, Charles Stabs' Business Horoscopes, and more surprises. As I said, food for the mind, but also food for the soul. To describe the rest of the event would only destroy the surprise for other spectators and as such, I will stop revealing any more here.
There is only one way to finish this review and Marcus Brown fortunately showed me the way: Marcus Brown delivered an outstanding performance at the Market Porter yesterday and I urge you; no, I beg you, to follow his works on And As if by magic, or run to get tickets if you hear of another live event, it might just… transform your life. Thank you.
Now here's a really nice little mix of digital and experiential for a campaign. I was talking to my sister a few days ago and she tells me she was having drinks with a few friends in a bar around Shoreditch. A guy showed up to them with a camera and asked them if he could take a picture.
They said yes, he takes the photo and disappears. He then comes back a few minutes with a beer bottle for each of them, the beer label prominently displaying the picture that was shot a few minutes ago. He explains that Vedett – the beer brand in question, is running a campaign where they will be printing pictures of people on the labels countrywide, so here's a free beer with your picture on it and go check out the website for more info about the campaign.
My sister said all of the sudden she has a completely different experience of that evening, she brought her beer bottle back home and said it's decorating her room now, it's a souvenir and she won't be drinking it for a while.
I really like that idea, very simple and even though the overall digital campaign isn't that original, having a few people roaming bars and priting picture labels makes a huge difference, all of a sudden the experience is real and personal, potentially becoming a souvenir token, or at least something to talk about at the bar with other people. And making people talk is generally awesome. I like it.
I need to try that beer now!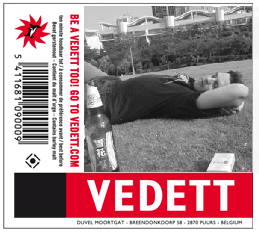 Here's the pic I submitted on the website. I thought having a bottle of Tsing Tao on it would be appropriate 😉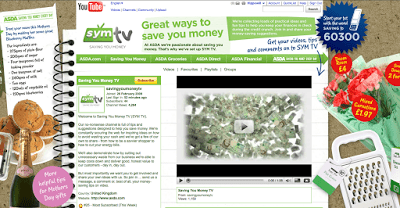 I saw in a Brand Republic article this morning that ASDA just launched a new campaign and a Youtube video channel: Saving You Money TV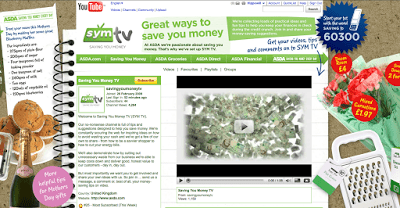 I started out being in two minds about it. Basically the gist of it is ASDA is always being cheap and saving you money. Given the recession it's even more important than ever to all pull together like brothers and that you keep spending the little money you have at ASDA – anyways something like that.
So they created this TV channel on Youtube where everyone can share what their money saving tips are – though it's already (Just with 11 videos) turning into an any tips, advice or cooking recipe acceptable.
Sooo… I thought OK, sure could be interesting, Youtube channel design is nice, the videos on offer aren't overly interesting but could have a small audience, and more to the point some the videos shot on location in an ASDA might be shared to friends of the people appearing on there.
The whole idea works for ASDA as a brand (even though milking and choking to death the recession theme, but everyone is doing right now…) and they're making sending videos as easy as possible, which is a great point in their favour (via Youtube uploads, email, MMS, etc).
But here's the last thing, I kept looking at a couple of videos, such the definitely waaay too long cheese grating 'competition' and noticed the 2 comments. Those are highly suspicious and prety sure it's astroturfing. Could be just those two and hopefully not part of the whole campaign, but I hate that. It's wrong and it always backfires.

User 1: Nitramrallytrack – Joined Youtube in January and since then the only activity is to have subscribed to the ASDA channel and watched their videos. Highly suspicious. Basic astroturfing. Other user is katec1975 and only joined a few days ago, same story…
They write: 'Utterly random but funny as…This man should be on telly – mentle' 'What a grate idea…'
Have you seen the video? Do you just happen to specialise in bad puns or bad spelling? Who do you think ASDA customers are? All dumb and illiterate? If it's the case, it's insulting is what it is.
Maybe nobody will care about this whole thing, but hey… What goes around comes around.
Now on the other hand, a couple of real Youtube users – or rather one right now have noticed the channel and posted one of their videos, so as I said earlier it might be interesting to a few people and might get khgibbons more video views, so why not…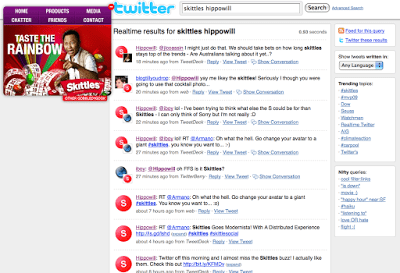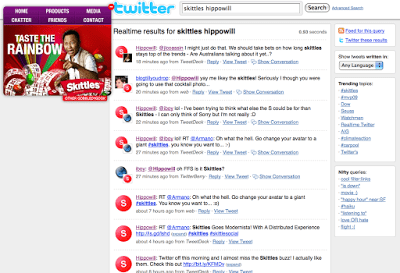 I'm sure there are already hundreds of posts about it out there and I read at least 2 good ones and I'm doing something else, so I'm going to over it very quickly and be really lazy and just advise to read their posts.
Without any particular argument, I personally really like it. And whatever you think about it, a LOT of people are talking about it.
Is any press good press? Good question.
Have they basically ripped off the Modernista website? Yes – but so what?
iboy compared the whole thing to a Turducken: Check his post.
David Armano also wrote about it on Logic+Emotion, check his out. Both are interesting for different reasons.
I think it's really interesting and they're a lot of attention for their new site launch
And let's remind ourselves that Skittles adverts are generally a bit bonkers anyway, I love their latest one:
And Cherry flavoured Skittle on the top, join in the fun and change your Twitter avatar to a giant Skittle!!