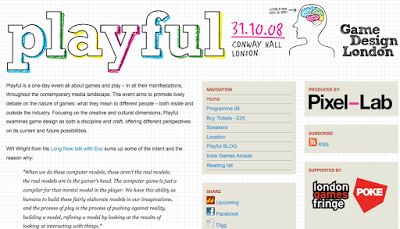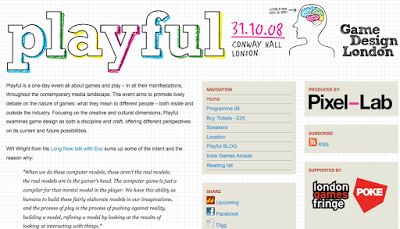 Happy Halloween everyone! I'm very proud to announce this is the 15th post this month, which for those very math astute will realise that's extremely close to a post every other day! But I'm probably the only one that cares that much…
So let's get to what I'd like to write about quickly. I was at Playful today and it was an absolutely amazing conference. Certainly the best one I've been to this year and one of the best ones I've been to full stop. I think what was really brilliant was to bring together a bunch of people passionate about whatever domain and particularly interested in play, games, interaction from different fields and talk about what they are doing. So a wider spectrum than if they had only invited hardcore game designers – more than often probably pitching the latest product they developed (nothing wrong with that by the way, but I guess not what I was looking for today).
Which brings to what I was looking for today. Nothing specific, really. But I came out of it really inspired! I learned a lot of things about hacking things, making them do stuff they weren't meant to. Theories about games, play, meaning, scores, etc. A lot of very smart people either demonstrating experiments, or talking from a slightly more abstract point of view about people, play and games.
I think one special mention for myself was to meet James Wallis from Spaaace. James opened the event with a brilliant talk about play in general, OuLiPo and a lot of other interesting things inclusing board and role playing games which I love. The best was to learn over a drink after the conference that he designed one of my favourite card games ever: Once Upon a Time. The funny thing is that I just did an internal talk about playing games last week (Which I will upload to Slideshare very soon – as soon as I find some time) and we're going to organise some sessions fro Once upon a time and a couple of other games. A lot of other talks were amazing and I will tell you as soon as they are uploaded on Vimeo and Flickr for the pics
Thanks again to Toby, Richard, and everyone else at Pixel-lab for organising the event! Thanks to all the sponsors as well – Poke, Melinda @ Miss Geeky, The people who provided lunch that I can't remember who they are right now, etc…
PS: I think I just realised James Wallis also created Nobilis, an RPG I've been wanting to try for a long time that looks amazing! And I also realised that had I simply read the details on the speakers list, I would have known all of that already, but hey…