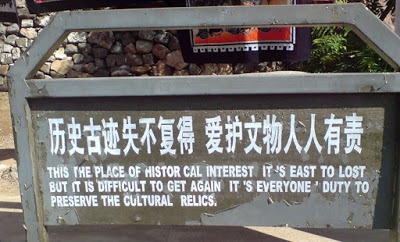 I was looking through my pictures from China and there are a few I'd like to share here. This first one was at the Great Wall in Simatai: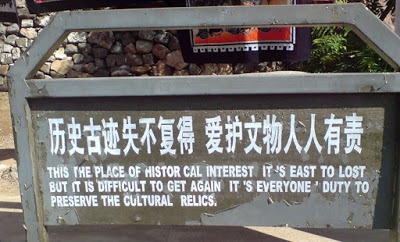 I know they are investing a lot of money in translating a lot of things in (proper) English for the Beijing Olympics next year, and they definitely have a lot of work to do.
That said, I was really happy there was some matter of English, and even more so that it was usually quite entertaining!
Now on the other hand, bars in Beijing have some great slogans and I particularly like this one, direct and compelling: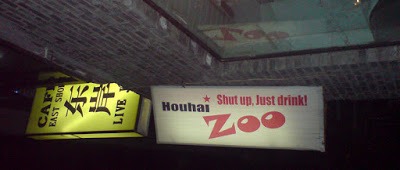 I don't know what you would have done, but I saw that and walked straight in! I think whoever came up with this should be working on the Olympics, but somehow I doubt that's the case…
I saw this sculpture while walking along the river in Chengdu, Sichuan.
I was actually surprised to see it, after a few weeks in China, you completely forget it's supposed to be a Communist country. Fortunately they left some of the artwork to remind us, and I think this is a fine piece of Soviet art.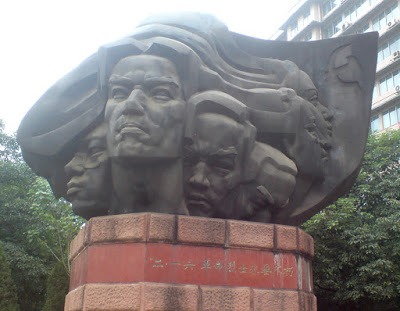 I saw this while climbing Mt Emei, one of the four Sacred Buddhist Mountains of China (a big deal for Chinese people and one of the main tourist, historical and religious sites in the country). The ability for Chinese to surprise was endless, the last thing I was expecting was to read about Donald Duck hanging out there in the mountain! Of course, I didn't manage to spot the tree, I mean it is a forest right in front of you… I don't even know if it's possible to see it from this picture, but if anyone does please do tell me!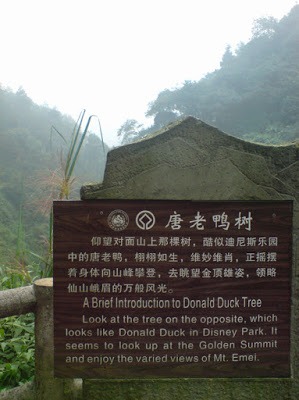 I saw this one in Shenzhen, it's really funny how just one letter changes the whole meaning in English but at the same time probably describes the food even better!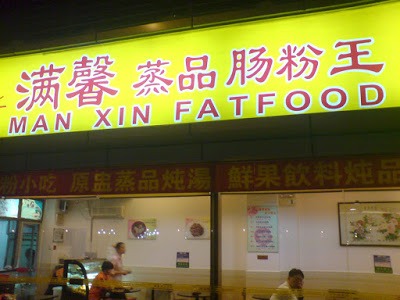 I've been surfing for a couple of hours trying to find something interesting to put on here, and came across this which I found fairly interesting:
While starting as a complaint, he still manages to pretty clearly advertise for about 12 different products in 2 minutes. I probably won't get ahead of myself and say that the days of the 30 second spot are over, I think the number of views is still relatively low, but perhaps there's something else to get from that video – and at the very least it's quite funny.
Additionally, I tried a quick search for the HDTV ad he describes and found this, which I thought was pretty inspired:
Maybe we could have a few animators from Aardman do a special one now, say Wallace & Gromit hunting were-playdoh-bunnies across the streets of Manhattan. I can really see it being really cool.
Check this out for a really nice piece of rich media advertising (well at least I like it). Vive la France ;o)
I'm keeping to go around finding some of my favourite ads from old times, this is from Leo Burnett Norway:
This is Ze Frank's TED talk delivered in the 2004 Conference, "What's so funny about the web?"
I just watched it, it's hilarious!
One of the other pretty funny things I saw when I was in China was this TV channel that showed mobile phone ads non stop all night. According to some of these ads Chinese mobile phones are amazing, you can throw them on the floor, answer a call in your shower, all sorts!
I was trying to look for some of these on Youtube but didn't find any (sob), I guess I'd have to be able ot type in Chinese, perhaps… Instead I found this ad which is part of the Axe Vice campaign, pretty funny and I think better than the ones with the Morgan Freeman look alike detective.
I'd be particularly curious about the "indecent exposure in a chicken suit"! Sounds kinky!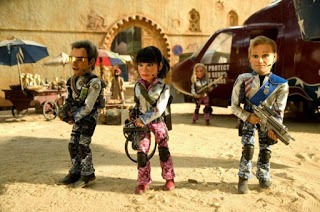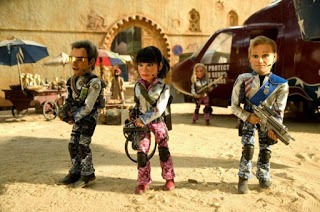 It was expected, but the big world bully finally made a move against Iran… It's one these numerous days where I'm not very proud to be American. Sounds like measures begun by the current administration before the upcoming elections, though I'm not an expert at all.
I particularly liked this line read in the Guardian: "U.S. officials insisted Thursday that the new moves do not hasten war". The whole thing sounds so much like "Team America: World Police" it's scary…
Pushing that a bit further, did anyone else notice how more and more Hollywood action movie baddies are European, particularly French??? (Watch "Next" and "Die Hard 4" again if you haven't noticed) They're going to be destroying Paris just like in Team America after they're done with Iran! I think I'll go back to my adland studies now, it's not as depressing…
So I'm applying to a lot of different agencies for a new job right now, and one of them had one of these fancy online applications to fill. One of the questions was to say what my favourite piece of communication was. I got pretty stuck, there are so many things I like and think are great. And of course, I was trying at the same time to say something different than what I perceive to be current great pieces of work (like the first thing that popped into mind were the Sony Bravia ads).
I thought about it for a few more minutes and something from my teenage years came up, the completely cult Kiss Cool ads in France:
Obviously the French speakers will appreciate them more, but I have really fond memories of these ads, my friends and I knew all the lines and half of them turned into expressions regularly heard around everywhere. The ads are almost 10 years old but google "kiss cool" right now and you'll have pages upon pages of these videos!
I've just spent five weeks traveling in China and one of the (many) hightlights was to discover this T-shirt while walking around Yangshuo where the hammer and sickle symbol had an ice cream replacing the hammer. The slogan read "Everybody gets Ice Cream!"
I instantly fell in love with it, but as usual in China they didn't have my size, so I decided today that my new blog would be a bit of an hommage to the person who designed this T-Shirt. Whoever you are, thanks for the inspiration!
I did this logo relatively quickly, but I'll make the page look better as I go.